#BBA8THECHASE. DAY 16. EMERALD HOUSE + SELLYSULU KEMISTRY +LETTER TO O'NEAL +MORE
Its Day 16 in the big brother africa 8 and the Chase is still on.
THE EMERALD HOUSE THEORY
Some of the Rubies think LK4 is still in the running for the USD 300 000 prize.
How hilarious.
A lot of interesting theories are flying around following the revelation that there could be a third House.
In his Diary Session, Sulu revealed how some of his fellow Housemates think the Emerald House is the final House where the eventual Chase champion will come from. "A lot of people think LK4 wasn't Evicted on Sunday. They feel he's most probably having the time of his life in the Emerald House," he said, a glint in his eyes.Many Housemates are scrambling to change their strategies ever since the non-existent Emerald House was revealed. Feza is one such player. The Tanzanian confessed in her Diary Session yesterday that she has her eye on someone and is looking at pursuing said person.
Today however, Feza revealed she will hold off on chasing this man because she might find someone yummier in the Emerald House. Pokello on the other hand does not sound too convinced that there could be other players, as The Chase heats up.
"I am absolutely not convinced that there is a third House. When the announcement was made, the audience looked as confused as we were", she said.
SELLY DISQUALIFIED
Ruby House dancing Queen and now notorious rabble-rouser, Selly, was on the receiving end of a severe talking to by Big Brother this evening. In case you missed it, the Ghanaian stunned her fellow Housemates and viewers alike during the Channel O party on Saturday night, when she dumped a glass full of alcohol over Pokello's head with absolutely no provocation that would warrant such.
This evening, Big Brother called all the Rubies, who have talked about the incident in hushed tones since it happened, to the lounge to hand out his punishment. Deafening silence descended over the House as full, uncut footage of the incident was beamed into the House. The culprit, Selly, looked on in what looked to be sheer agony and embarrassment as she was exposed for all to see.
When asked to explain herself in the Diary Room, a panic-stricken Selly told Big Brother she delivered her golden booze shower because Pokello is a good dancer. "I poured alcohol over Pokello's head to show her that she was really dancing well. I didn't do it to provoke her because we get along. I realised later that she didn't find it amusing. We have spoken about it and I have apologised", she said. Selly went on to reveal how she does the same in Ghana when her friends excel on the dance floor.
When Selly emerged from the Diary Room to apologise once again, Pokello told her "It's okay. Don't worry about it". Was Selly giving props or was she trying to stir up trouble?
Big Brother has introduced a Strike Wall that will serve as a reminder that Housemates are not a law unto themselves. This particular incident happens to be Selly's first strike and should she receive three more strikes, she will be expelled from the game.
The Chase has been going on for three weeks now and we can't help but admire the way some of our Housemates have plotted and planned to prolong their stay in the Houses.
We initially focused a lot on the 'male strategy' and we were blinded to the force and power behind the women in these Houses.
One girl who has been interesting to watch, from her unforeseen strategies to the way she handles her fellow Ruby Housemates, is none other than Ghanaian vixen, Selly.
When the show started, Selly was nothing more than a shy girl who kept to herself most of the time and hardly exchanged two words with any of the then strangers of the Ruby House.
Now she stands as HoH and has effectively used this power to make sure that her plans are executed without fail. Her most controversial move to date as far as Evictions are concerned was when she threw Koketso under the bus while saving Biguesas from Eviction last week. Then of course she felt bad about it afterwards because most Housemates liked the hook up LK4 and Koketso had going. But she soon got over that when Natasha assured her she made the right decision.
This week Selly shocked everyone again when she didn't save her buddy-o-pal Pokello from Evictions but instead chose to save hunky Botswanan Oneal. The plan here might seem obvious but I'm sure Selly has something different up her sleeve. She is definitely keeping us in suspense and at the edge of our seats. There's a lot to be appreciated from this young woman.
THIS WEEk TASK
This week's Task might have been a tad confusing for both the Diamonds and the Rubies earlier this morning but the excitement and interest of it all has sent an electric energy through both Houses.
The Task requires a lot of creativity and both Houses are dead set on presenting an impressive dance routine to outshine one another come Saturday.
Leading the Rubies was well-known choreographer, Angelo, who had the ladies shaking what their mommas gave them and then some, while Sulu and Bassey got tired in the middle of the routine. Neyll was a team player because even though he didn't master the moves, he gave it his all.
The Ruby chicks were a bit more playful as they practiced their raunchy routine, with Dillish, Feza and Motamma moving their hips like they were in a strip joint. Who ever thought conservative Motamma could move like that? With hot moves like those, impressing Biggie won't be that hard this week.
THE SELLY SULU CHEMISTRY
The chemistry between boss lady Selly and Zambia's Sulu has been evident from the word go. Never mind that Sulu is the House clown, Selly's been patient with him and laughs at all his jokes.
In last night's court drama, Oneal exposed Sulu's game plan of hooking with someone in the House as part of his strategy but it seems the Zambian has changed face as he relentlessly refuted the claim.
Well, the 'couple' has received conflicting reviews from all over Africa. One could be fooled into thinking that the two also play a lot, hug a lot and there's no doubt that they really enjoy each other.
If the image we received on Twitter is anything to go by, then Selly has friends back home that resembles Sulu.
Ok u wanted the pic, here's Selly and her bf back home. She's missing him in Sulu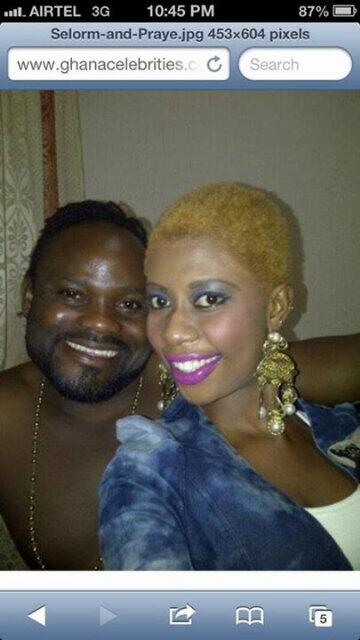 DIARY SESSION
more interesting with Housemates feeling extremely comfortable with Biggie and telling him everything and more.
First in the Diary Room was Motamma who was more than confident that her Housemates efforts will triumph and that the Diamonds are due for a win seeing that they lost last week. She was clearly enjoying the Task.
While some Housemates believe that there is a third House called the Emerald, the rest believe it's one of Biggie's famous tricks designed to throw the Chasers off their present plans and strategies. Beverly was also convinced that the third House doesn't exist, although she was curious at first about who could be in that House and what their moves would be.
The general thought amongst the Diamonds is the fact that Bolt might just evade Eviction, yet again, whereas dearest Biguesas is a sure bet that he'll be gone because he's always kept to himself and is an obvious target for Nominations. 'Biguesas doesn't deserve to be Evicted purely because he keeps to himself and doesn't talk to anyone. But as long as I'm not nominated, I'm very happy Biggie," Bimp said.
Beverly still insisted that Bolt is making major moves on her and it's making her seriously uncomfortable. "He told me that he will kiss me before he leaves the House," she said. Beverly doesn't seem to have the handle on Bolt, that's if these allegations are true. What's even more confusing is why she doesn't just tell Betty about this.
LETTER TO ONEAL


In his head he is the most intelligent Housemate and the best thing that's ever happened to Big Brother Africa. Since the beginning of The Chase, Oneal has been making it his prerogative to put people in their place and generally lecture them about manners.
It's a wonder that the other Housemates have not picked up on his clearly superior demeanor. Especially after last night's appearance in 'court', it's clear that not only is intelligence important to Oneal, but he himself is well spoken, even in a drunken state. That is why we've decided to write him this letter, to try and reason with him.
Dear Oneal,
On Saturday after the chaos at the Party, disgust was written all over your face. You fired from all cylinders, charging at Housemates' drinking habits, the way they acted at the Party and even lectured them about how important you are in your country.
Okay Oneal, we understand that you're a club DJ in Botswana and always make the VIP list but could you please chill for a while and enjoy your stay in the Big Brother Africa House. "Me this, me that!" Of course you're hot, but there's no need to flaunt it for your Housemates…or for all Africa, in fact.
You've been Nominating your fellow Housemates just because they don't stimulate you intellectually, oh please. Which part of 'relax' don't you understand? Don't you know that there's a time for everything? Maybe you should take a leaf from some Housemates who have shown both their intellectual and chilled sides.
Clearly, your HoH Selly sees something in you, which is probably why she saved you from possible Eviction. We like the way you're beginning to warm up to Feza though, which is perhaps the reason Selly wants to keep you in the game – to see how far you'll take it with the Tanzanian beauty. We can't wait to see you melting in her presence either – so sweet! The way you were so excited when Biggie asked you about her, it was so refreshing to watch that cute side of you.
We must say thanks for being the voice of reason Oneal amidst all the madness, especially on that peeing in the bucket incident. Now, that was pure barbarism, we agree, and perhaps there's nothing wrong with seeking intellectual stimulation but it could just be a bit farfetched in this House.
Yours Truly Evatese